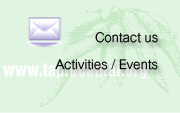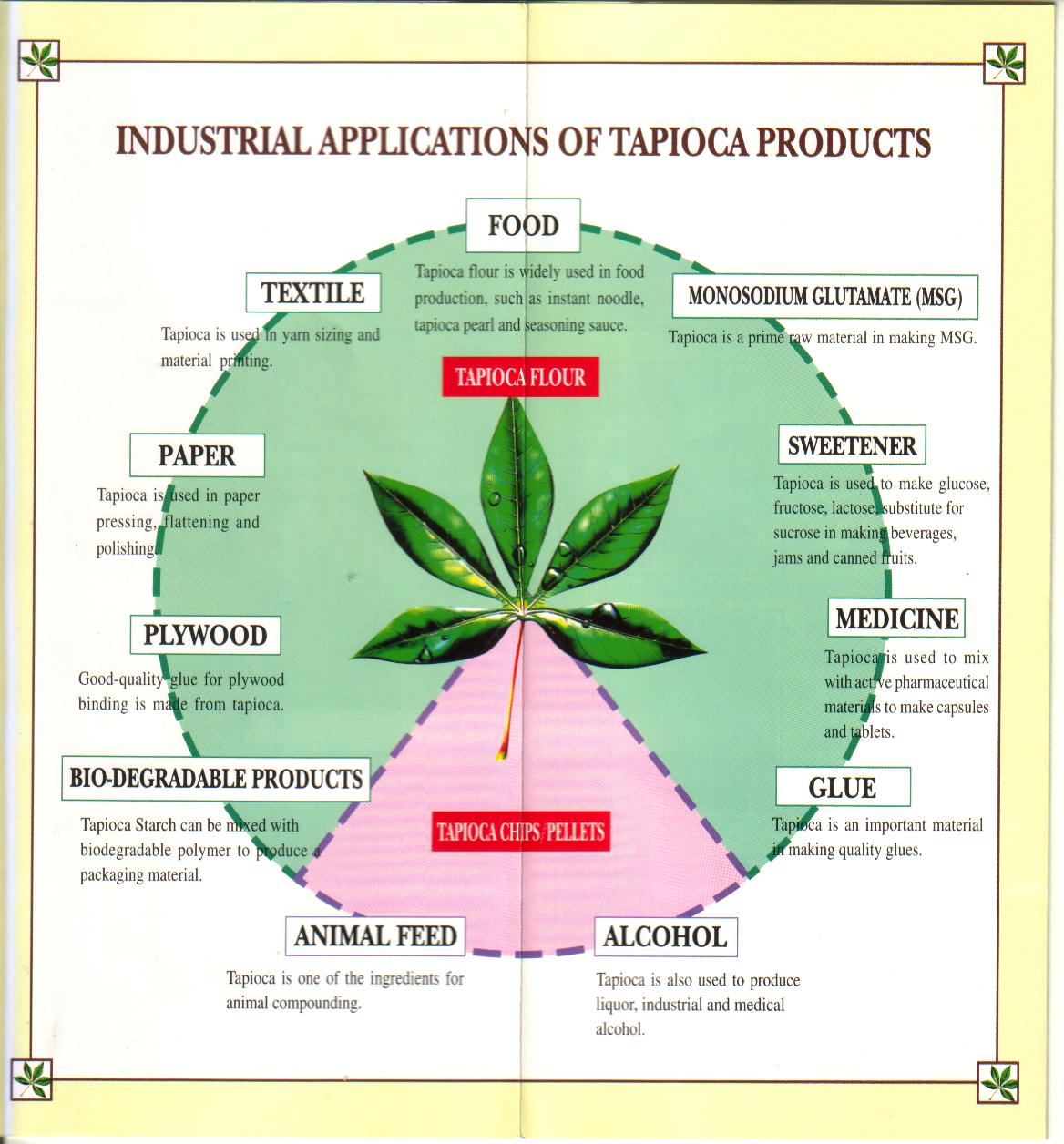 Tapioca Starch  :

* Textile industry  
Threads are treated with the tapioca flour before weaving.  In printing onto the textile, the tapioca flour helps ensure smooth and continuous prints. Modified starch has proven to be better than ordinary tapioca flour in the textile factories.  Some local flour mills now produce modified starch to meet rising demand.



* Paper industry  
Plup is derived from pine trees, bamboo and eucalyptus (gum) trees.  In order to smooth out pulp into paper, it has to be coated with flour (or starch).  The glue from tapioca starch increases the quality of the paper also.
* Particle board industry  
The glue used in  cementing wood chips is made partly from tapioca flour, with the composition of about 50%.  The flour itself has the adhesive property, and is cheaper than other materials.



*

Gumming industry
The tapioca flour can be converted into glue, by heating or mixing with certain chemical substances.  It can be used in producing letter envelopes, stickers, gummed paper and gummed tapes.

* Food and beverages 
The tapioca flour is a source of carbohydrate and has important properties in food industry.  It acts as a thickener, stabilizer, binder and filler.  It can be used in canned food, noodles, drinks, ice cream, canned fruits, yoghurt, sausages, sauces and baking soda.
* Degradable material 
The tapioca floour can be converted into plastics by mixing with degradable polymer.

* Sweetener industry  
The tapioca flour can also be converted into sugar such as glucose, fructose and dextrose.  It can be substituted for sucrose  in canned fruits and jams.

* Acetic acid industry  
It can be used in beverage industry such as carbonated drinks, fruit juices and pharmaceutical industry.

* Food flavouring  
Ii is the major ingredient in making MSG for food flavouring.
* Pharmaceuticals  
It is used in making capsules and tablets.
Tapioca Chips and Pellets  :

* Animal feed   
Information can be found in www.tapiocafeed.com   Tapioca is an important ingredient in animal feed for cattle, swine and poultry

* Ethanol   
Tapioca can be converted into ethanol which, when mixed with gasoline, gives rise to gasohol for the motor industry.

* Alcohol  
Tapioca can be processed into alcohol for the brewery and also for use as an antiseptic.